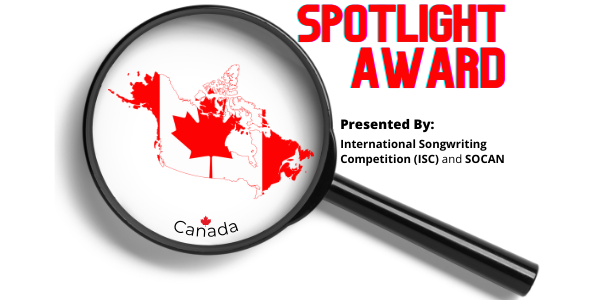 The International Songwriting Competition (ISC) is proud to announce the launch of a new Spotlight Award that will be given annually to a song and its songwriter(s) from a different country. The goal is to shine the spotlight on talented songwriting each year and honor their musical achievements.
The inaugural award, presented by ISC and SOCAN, will be presented to a Canadian song and its songwriter(s) who embody excellence in the craft of songwriting. All Canadian ISC 2021 entrants who are members of SOCAN are eligible for this award. This award is in addition to all other winners honored in the overall ISC competition.
The winner will be selected by ISC and will be awarded a prize package consisting of studio recording time at the renowned Dark Horse Recording in Franklin, TN, USA, one-week lodging at SOCAN Nashville House, and a travel grant from the SOCAN Foundation.
How To Enter
To be considered for the Spotlight Award, simply enter your songs through the regular submission process and be sure to list SOCAN as your PRO. Only Canadian entrants who are current SOCAN members will qualify for award consideration. If you are a Canadian songwriter and are NOT currently a member of SOCAN, you can sign up for your FREE membership here. All SOCAN memberships must be completed by December 31, 2021, to qualify for the Spotlight Award consideration.
Now in its 20th year, ISC was created to recognize great songwriters and to provide a valuable platform to be heard by the music industry and the public alike. The competition is open to both professional and amateur songwriters. Renowned for its prestigious judges, the 2021 panel includes iconic artists Coldplay, Hozier, George Thorogood, Bebe Rexha, Tom Waits, Christian Scott, Linkin Park, Jeremiah Fraites (The Lumineers), Trevor Daniels, Metro Boomin, Kristian Bush (Sugarland), Niko Moon, Arturo Sandoval, Laura Pausini, NEEDTOBREATHE, and many more. Also included are record label executives from many of the top major and indie record labels.
A total of 71 winners in 23 genre categories share in over $225,000 in cash and prizes, including an overall Grand Prize consisting of $25,000 (US) cash, and more. Over the years, many ISC winners have gone on to achieve greater success. Previous winners have included: Tones and I; Illenium; Jane Siberry; Vance Joy; Jack de Keyzer; Faouzia; R.LUM.R, Bastille; Gotye; Lindsey Stirling; Kimbra; Sam Roberts; The Band Perry; Kehlani; Passenger; Gin Wigmore; Tenille Townes; For King & Country; Andrew Bird; Gregory Porter; The Trews; Omar Sosa; The Teskey Brothers; Jordan St. Cyr; Adrianne Lenker; and many more.

All current entries will be included in the 2021 International Songwriting Competition (ISC).

About SOCAN
SOCAN is a rights management organization that connects more than four-million music creators, music publishers, and visual artists worldwide and more than a quarter-million businesses and individuals in Canada. More than 175,000 songwriters, composers, music publishers, and visual artists are its direct members, and over 100,000 organizations are Licensed To Play music across Canada. With a concerted use of progressive technology and unique data as well as a commitment to lead the global transformation of rights management, SOCAN is dedicated to upholding the fundamental truths that music and visual arts have value and creators and publishers deserve fair compensation for their work.

About SOCAN Foundation
Created in 1992, the SOCAN Foundation is devoted to the promotion of music creation and a better understanding of the role of creators in our society. The SOCAN Foundation is part of the SOCAN Group and governed by its own board of directors made up of authors, composers, and publishers who are a reflection of the diversity of concerts and popular music as well as of Canada's geographic and linguistic diversity.
About Dark Horse Recording
Dark Horse Recording Studio is a world-class, exclusive destination recording facility that has recorded more than 65 gold and platinum records. Set in the rolling hills of Franklin, TN, just outside of Nashville, some of the celebrated artists who recorded albums there have included Taylor Swift, Keith Urban, Korn, Neil Diamond, Jeff Beck, Carrie Underwood, Relient K, Dolly Parton, Jason Isbell, and many, many more.